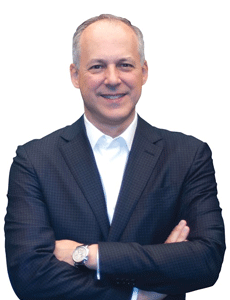 Robert J. McCullen, CEO & President
At a time when the dot.com boom set off in the mid-90s, the scope for people imagining a world engulfed in the rings of the web, was admittedly quite low. The shape that the Internet has taken and the one it continues to take was not perceived when the first website planted its foot on it. And certainly the idea that somebody could breach the virtual space at a click of a button, did not cross most minds. Almost three decades since the creation, the Internet space has taken a whole meaning, cyber security in specifics represents a new tone.
We can find plenty of cyber security players 17 years into the new millennium and the numbers are continuously rising, however to envision an era of cyber threat in 1995 when the Internet was still a rich novelty, is a different ball game. Trustwave was one of the first companies which foresaw such a time and landscape and set up a cyber security company which would 'help businesses fight cybercrime, protect data, and reduce security risk.'
Scroll through the technology section of any newspaper today and the odds of finding a piece mentioning 'hackers', 'leaked valuable information', 'breach of security firewalls' will be high. Cyber security today holds diverse definitions and increasingly, the task for cyber security managers is to mitigate each challenge that comes with it. Not to mention, constantly. Trustwave with its team of security experts, ethical hackers, and researchers, enables businesses to transform the way they manage their information security and compliance programs as well as provide cloud and managed security services with integrated technologies at its behest. The firm delivers automated, efficient, and cost-effective threat, vulnerability, and compliance management with three million businesses enrolled in the Trustwave TrustKeeper cloud platform to show for its success.
In addition to that, the 22-year old firm has a lot more to show for its continued efforts in the cyber security sphere.
Trustwave has customers in over 96 countries and boasts of impressive 44 patents to its name. With more than 1500 people employed, the company researched nine million web application attacks, two million network and vulnerability scans, more than five million malicious websites, and more than 20 billion emails, last year alone. All these numbers point out to one aspect of the company – its array of products, solutions, and services that has helped Trustwave to achieve it.
The reasons of choosing a particular cyber security company vary from one business to another. Trustwave possesses all the qualities that an ideal cyber security manager must endorse. Trustwave offers customers a wide variety of solutions to meet their threat, vulnerability, and compliance management needs. It provides a single pane of glass for managing Trustwave technologies, interacting with Trustwave support, and provides a business intelligence dashboard that maps the organization's hierarchy. Trustwave technologies are also backed by global threat intelligence from world renowned SpiderLabs researchers, allowing their solutions to block more threats in real time.
Trustwave help businesses fight cybercrime, protect data, and reduce security risk
Additionally, Trustwave has to its credit a wide range of products such as Network Security and Access Control, Content and Data Security, Endpoint Security, Security Management, Database Security, and Applications Security that pacify various security challenges. If Trustwave's portfolio of network security and access control solutions helps protect businesses from advancing threats, optimize network performance, and increase operational efficiencies; content and data security safeguards businesses against malware, targeted attacks, and blended threats, while improving control over data and enhancing productivity for users. If the broad and flexible Trustwave SIEM portfolio— combined with leading managed services—helps you get smarter around meeting mandates and managing threats across your businesses; Trustwave Endpoint Protection Suite (EPS) provides endpoint anti-malware, policy enforcement, and compliance management, delivered from the cloud.
And so, Trustwave's products with their combined functionalities fuel the threat intelligence into its services and technologies to help customers prepare proactively for threats and reduce overall risk exposure.

The company leverages its varied solutions challenge by challenge, compliance by compliance, and industry by industry such as education, healthcare, financial services, retail, and government. It also delivers its services range to meet the rising threat management, vulnerability management, and compliance management demands.

Trustwave also offers industry-leading managed security services as well as consulting, systems integration, and other professional services. Many of its solutions are available across multiple delivery mechanisms, giving customers flexibility as they design and implement their security infrastructure. Its comprehensive suite of technologies and services helps businesses secure critical information throughout its lifecycle and comply with daunting regulatory requirements. With automation, tools, and intelligence, Trustwave constantly finds better ways for businesses to overcome their security challenges. Its qualified security assessors, ethical hackers, and other experts are some of the industry's most trusted sources for risk assessments, threat research, forensic investigations, and security training. And for the same reason, Trustwave is selected by more enterprises for compliance than the next ten service providers combined, and some of the world's largest financial institutions rely on its knowledge and technology to help their customers validate, achieve, and maintain compliance. The firm is PCI compliant and also conforms to other industry standards including HIPAA, FISMA, GLBA, ISO, and SOX.

The firm over the years has won plenty of awards and accolades that gratify its work on cyber security. This year alone, Trustwave has been a recipient of the 'Best Managed Security Service – SC Media Awards, was named as a Challenger in the Gartner Magic Quadrant for MSS – Worldwide, and as an Emerging MSS provider by IDC MarketScape. Ably led by Robert J. McCullen, CEO and President, Trustwave intends to stay ahead in the cyber security market space by constantly innovating and reinventing itself and by providing customers the most satisfying cyber security experience.