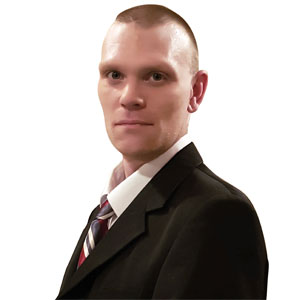 Gareth Erasmus, Senior Security Analyst
"Recently, one of our clients was attacked by a ransomware which compromised their system and encrypted their data," recalls Gareth Erasmus, Senior Security Analyst, Cyphonica. In the meantime, Cyphonica's software instantaneously moved the rest of the files off-site and automatically raised a flag to alert Cyphonica's team. Responding to the red alert, Cyphonica cleared the vulnerability that compromised the machine and successfully restored the client's data to the point of the infection. This enabled the client to acquire up-to-date information rather than relying on a backup which could be up to 12 hours old. As a result, the client was up and running within 30 minutes, and just in a couple of hours, was able to carry out business as usual. Implementing Cyphonica's solution, the client was able to avoid the possibility of paying the ransom that is essentially perpetuated by these types of attacks. "With Cyphonica on your side, you are protected 24*7," asserts Erasmus.
Located in New Zealand, Cyphonica is the vanguard of cybersecurity, with cutting-edge solutions that allow IT administrators to identify loopholes in their cybersecurity systems before the attack takes place. To enable businesses to stay ahead of the attackers, the company's solutions set spans across various fields that include testing, defense, and real-time monitoring.
Cyphonica's offers its flagship software-as-a-service which performs in-depth monitoring to keep crypto lockers and intellectual property thefts at bay.
With Cyphonica on your side, you are protected 24*7
For example, as soon as a user opens a folder or a word document, it gets monitored in real time. One groundbreaking feature of the software is that it can identify patterns in which cryptolockers encrypt files without even using virus analysis. Using the software, firms can spot the changes in cryptology, which is not possible through ordinary backup systems that are available.
This feature could effectively make a significant difference at present times when cryptolockers are sprouting as widely prevalent threats in the industry. Further, with IoT, as an increasing number of devices are being connected to the internet, severe threat prevails across industries in the form of being locked out of network due to these ransom wares. Erasmus points out, admittedly, that it is hard to prevent each and every attack, but in the event of a breach, Cyphonica's software identifies all the encrypted and inaccessible files and determines, on multiple offsite networks, the most updated backups which can be restored, warding off huge financial losses. In addition, to catapult general awareness about cybersecurity, Cyphonica provides on-site security awareness training for staff members. Erasmus understands the importance of proper information security practices, thereby puts tremendous efforts in educating staff about social engineering, and identification and efficient handling of sensitive information.
In a nutshell, Cyphonica is a one-stop-shop that helps businesses to set up and maintain a secure workplace, while educating them to handle sensitive information. The company starts by evaluating the client's business process, and what they want to achieve. Accordingly, Cyphonica provides them the two options—plugging the security loophole that the client puts in front of the company, or to transfer the existing infrastructure to the cloud. "Though the cloud is the best option, we still do not impose any solution, rather tailor it for them," says Erasmus.
The company is currently working on expanding the features of its solutions with the aim to incorporate some new security tools that would enhance its security capabilities. "Apart from expansion of the solution, our future endeavor is to become a cybersecurity giant in New Zealand, while advancing ourfootprints in Australia and Japan," concludes Erasmus.