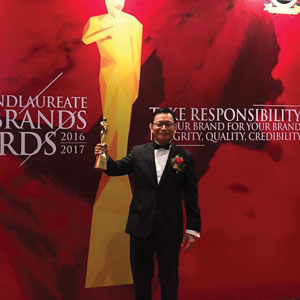 Lau Bik Soon, Group CEO
A peek into REDtone's (KLSE: REDTONE) website, and one is thrust with the list of awards and recognition that the company has received. The firm takes pride to be the leading intergrated telecommunications and digital infrastructure services provider that confers infrastructure integration expertise to its large clients' base. One of the most respected home-grown brands in Malaysia, the company boasts of an ever-expanding range of offerings, wide service network, and dedicated workforce of more than 350 employees consisting of engineers as well as R&D, technical and customer service personnel.
Since its genesis, the firm has evolved into a company that renders a full gamut of services in telecommunication services, managed telecommunication network services, and industrial digital services. These enable the company to deliver telecommunication services such as voice, data, and managed cyber security services to its clients in SMEs and other government agencies. REDtone's industrial digital services further empower them to maintain the security infrastructure of its customers in a much better fashion.
The firm provides best-in-market cloud-based solutions to abate the effects of malicious DDoS attacks and continually meet the scaling security needs of the organizations. With its industry-leading tools, technology, and expertise, REDtone managed cyber security solutions are well equipped to secure network assets and prevent downtime, protect critical applications as well as ensure availability for domain resolution. "We are committed to working closely with our clients to understand their security, compliance, and cost concerns. This helps us deliver solutions that perfectly fit their specific security requirements while eliminating current vulnerabilities and potential threats," says Lau Bik Soon, Group CEO of REDtone.
As a market leader in the cyber security field, we are aptly looking to expand our network to rest of Asia
The Quintessential Solution to the Problem at Hand
Over the last three decades, the connected world has grown. As the digital sector blooms continually, telecommunications organizations are seen as a prime target for hackers wishing to subvert or exploit critical infrastructure for their benefits. Lau elaborates about the various challenges enterprises face due to the constant breach channel. To combat with the challenges, REDtone edifies its clients about the various weak links in the security network and assists them to garner better insights about it. These results abets the enterprises to understand the services and find the most apt solution to protect against the breaches. The company also assesses the current infrastructure and then recommends solutions accordingly to meet the customer demands. Also, REDtone is certified ISO 027001 and ISO 020000 Company.
More Awards
The firm's excellent work has been acknowledged by industry with a total of 33 awards rewarded over the past two decades. REDtone recently won the "Malaysia Cyber Security Project of the Year" award from CyberSecurity Malaysia, a powerful endorsement of REDtone flexiCloud's industry best practices in providing comprehensive and reliable end-to-end cyber security measures. One of its other accolades was winning the prestigious Brand Laureate "Best Brand in Telecommunications" Award. This recognition is a testament to its standing as one of the nation's leading integrated telecommunications service providers. The company intends to continue its focus on its three pillars of growth i.e telecommunications, managed telecommunication network services, and industry digital services.
Lau believes that cyber security solutions will play a prominent role in the future as more customers are leveraging the benefits of the cloud. On the geographical front, the firm envisions expanding its territory to South- Asian countries such as Indonesia, Philippines, Vietnam, India, and Sri Lanka.
"As a market leader in the cyber security sphere, we are aptly looking to expand our network to rest of Asia," concludes Lau.