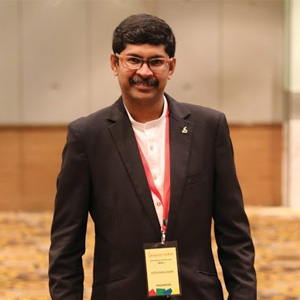 Krishnakumar Ragavan, CEO
A manufacturing firm faced issues with their network and security and wanted to stop DDOS attacks from the internet. Their services were blocked because of a DDOS attack targeting their mail server, web server, and ERP server. After a detailed analysis, 10 Infinity- -whose key service is infrastructure management that looks after the servers, networks, Firewalls, and desktop regarding security--understood their customer's environment and checked their internal as well as their external system-LAN to WAN, only to find some routing issue which created traffic loop. 10 Infinity streamlined their routing table. Moreover, the company was using traditional Firewall that was not capable of supporting Next Generation Security features in the environment. Using their ManageEngine tool, 10 Infinity figured that attacks were coming from Taiwan and China, and the company was not ready for IPS mitigation. 10 Infinity recommended them FortiGate 500D Firewall to overcome the anomaly and enabled IPS mitigation feature that would prevent DDOS attacks from any external sources. "Firewall forms the most important part in the security of an organization and enterprises these days need to adopt next-generation Firewall to reduce the risk of the security in enterprise-class of the network," says Krishnakumar Ragavan, CEO, 10 Infinity. Over the years, the firm has developed cybersecurity solutions for enterprises to help them mitigate risk and prepare for the new phase of attacks.
Formed to provide solutions encompassing all scopes within the ICT Infrastructure domain, the company is driven by experienced personnel with multiple years of experience. The company provides ManageEngine, a tool that involves in monitoring the network data center.
It is one of the products that were recognized in the Magic Quadrant in the category of SIEM and Network Management Solution. ManageEngine Mobile Device Manager Plus helps enterprises perform mobile device management (MDM) tasks to configure and secure mobile devices and enables them to perform MDM operations from a central location. ManageEngine Firewall Analyzer helps network administrators to collect centrally, archive, analyze their security device logs and generate forensic reports out of it.

The company has developed tools to monitor network and has clear flow analysis solution for network configuration management. The EventLog and Compliance solution helps in the maintenance of log and can do windows eventlog, syslog management and also has Firewall log analyzer. EventLog Analyzer safeguards machine-generated logs that have vital information which provides powerful insights and network security intelligence into user behaviors, network anomalies, system downtime, policy violations, internal threats, and regulatory compliance.

10 Infinity has several other cybersecurity services like Desktop Central and Password Manager Pro. Desktop Central has integrated desktop and mobile device management software that helps secure devices like enabling a passcode, remote lock and can manage iOS, Android, and Windows smartphones and tablets. On the other hand, Password Manager Pro is a secure vault that stores and manages shared sensitive information such as passwords, documents, and digital identities of enterprises.

10 Infinity understands customer requirements to offer consultation services to enterprises that have risk in their current security solution. The company introduces the enterprise to the pain points in the field of cybersecurity. Moreover, they provide POC (Proof of Concept) services to prove how the new propositions will help them mitigate the new phase of cybersecurity. 10 Infinity has equipped them with the new aspect of cybersecurity and trains their engineers to keep them aware of the new trends in security and certifies them in ManageEngine and other security solution products.

10 Infinity has partnered with prominent names like CISCO, HP, Huawei, and Checkpoint and will soon launch Wireless ISP as their new product portfolio for the public. Based in Kuala Lumpur, 10 Infinity is planning to expand their coverage to Johor and Singapore in the next two years. "We are moving into next-gen solution that includes virtualization and software-defined network," adds Ragavan.